Devotional Gatherings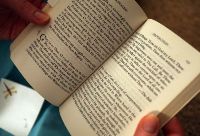 Bahá'ís around the world are engaged in local grass-roots experiments in devotional gatherings. Devotion, prayer, meditation, and reflection lie at the heart of spiritual life. Without ritual or dogma, Bahá'ís in many neighbourhoods in Winnipeg come together, inviting friends and neighbours to attend small prayer sessions.The aim is to pray, meditate, and read spiritual writings in a creative and personally satisfying way.
There is no set form for such gatherings.These devotional gatherings are open to all and are intended to embrace that attitude of prayer and devotion that is universal to all religions. Music is often a component in the gatherings.
People are welcome to simply sit, meditate and enjoy the spiritual atmosphere, or participate by reciting some of the readings or prayers.
Find out more about Devotional Gatherings in your area by contacting info@winnipegbahais.org